Diwali being around leaves you with a lot of work to finish and interior decoration seem going on till the last moment. The cleaning and decorations, being the major parts, let's see the ways to decorate your house like an up top professional.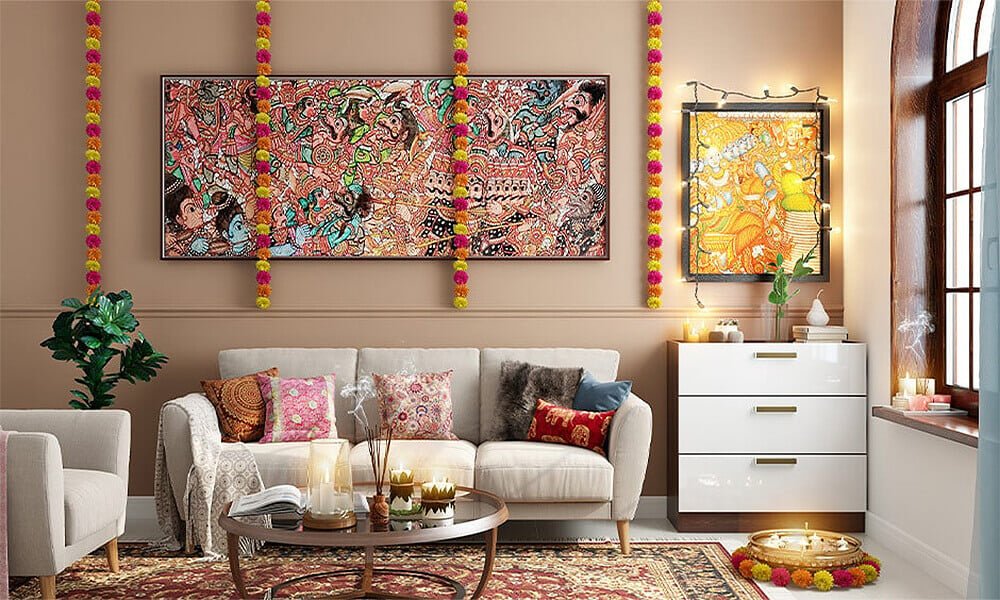 Choice of Colours
Colours play a very important role in lighting up the mood of individuals. The choice of colour decides what you feel as it is going to stay up, till the paint is over the wall. The size of the room doesn't matter much. Select a colour that can give a vibrant and fresh look to the walls of the house. The more the merrier though fits here properly.

For instance, interior designers in Bangalore can help paint your kitchen in a light shade of vibrant colours like yellow, peach, or faint orange. This colour gives a whole of different vibes in the natural day and night.

Another trick for painting a bed bedroom shall be by mixing two colours and making a new colour combination. A piece of good decoration advice for the living hall shall be painting the 3 hall walls in a lighter shade and the wall with a TV with the darkest shade that can give a good contrasting thing and pops out the TV wall of the hall.

Another change that we can make in the living hall is that you can replace your old TV e table and shoes with a broad small table for putting other accessories like the TV remote, set-top box, a vase or some decorative piece, etc.
Room Decors an Essential in the Festivities
The room decor plays a very important and vital role in decorating the house after the renovation and making it look unique and personalized.

After changing the colours of the whole one can always add new wall hangings and wall designs for small paintings according to their choices and the same is available in a variety, online and offline both.

Now, Diwali is a time to show the creativity hidden inside you, so instead of getting the new vase or another decorative piece, one can always use the old ones and be creative about it in a way of its placement in the room or reusing the old vase in a new and creative manner.

Are the question arises what if you don't have an old vase and you cannot be creative in that? Don't worry, we know a way to sort this issue for you. Every city has a specific local market that can give you good places to catch a variety of home decor and buy it according to your choice. For instance the Banjara market in New Delhi, Tulsi baug or MG road in Pune, Malad in Colaba market in Bombay, and so on. You can always get the pieces of your own choice from such places at a very affordable rate and can customize them in the way you want!

Another decorating piece you can always buy is a good rug or a good carpet. Carpets and rugs give a very rich and royal look to your room.
Diwali Decorations
These were some of the decoration ideas for getting ready for Diwali. Whether it's your home or office, there are some Top 10 interior designers in Bangalore that can help you. Now the big festival day comes into the picture and hence you will prefer to decorate your home in a full festival mode. Here mentioned are some of the ideas that can help you be creative while decorating your home.
Rangolis
Rangoli is one of the most important elements of Diwali decoration and making that Rangoli stencils come in very handy.

One can always be very creative and make different kinds of rangoli at different locations. Well, as for us, our personal favourite is using small rangoli stencils at different corners of the house and adding diyas or candle stands to it. For the doorstep, I prefer making a big rangoli full of flowers and making medium size rangoli at the place of worship. From the doorstep to the worship place, you can add the rangoli of Lakshmi Ji footprints and add diyas all over the place, but in a very careful manner that it may not burn someone while walking.

You can also add a medium-sized bronze utensil full of water, flower petals, and floating candles in the middle of the big rangoli at the doorstep and outline the rangoli with diyas.

One can always use small lights, lamps, and candle stands to decorate the garden area and at places may add the candles for amazing light all around.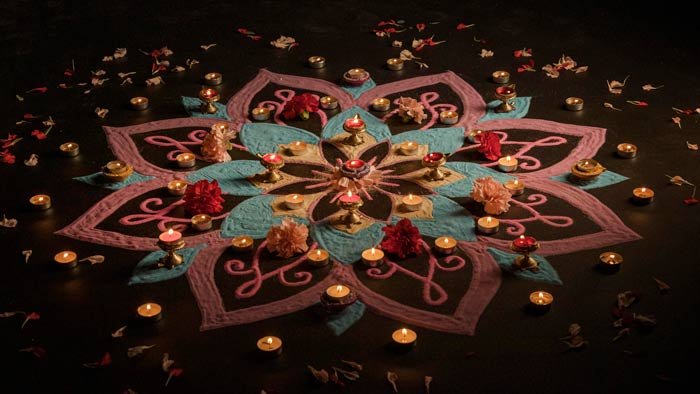 Conclusion
Being a festival of light, Diwali always brings happiness and light all around, and with all of this, your house shall be picture perfect ready for Diwali. Enjoy the compliments floating around by connecting with Home Interior Designers in Bangalore.