Award Winning Interior Design Company In Bangalore
Dream Dots Interiors team consists of the highly passionate people in the space of interior designing in Bangalore & Mangalore. Our company always puts the best foot forward in making our customers dream vision of their house and in reality making it better than their imagination.

We value your hard-earned money and keeping it in mind, our highly skilled interior designer always strikes the optimum balance between cost and quality. Our tightly coupled designing and implementation team make the designs that are timeless in aesthetic, practical usage customized to your taste and requirements. We believe our customers are important not only when the project is in progress, but also post project completion. We will support and address your queries and requests in the best possible manner.

We can sense the feelings you undergo in the process of making house interiors the best. We support you in every phase of interior designing by having flexibility and transparency to the maximum possible extent.

Dream Dots was formed in 2016, we have provided our services in Modular Kitchens, Electrical & Plumbing, Loose Furniture, Civil Works, Furnishings, Decor, Landscaping, False Ceilings, Paintings, Commercial Interior Design. Since then every project completed, we are adding extremely satisfied customers on our list.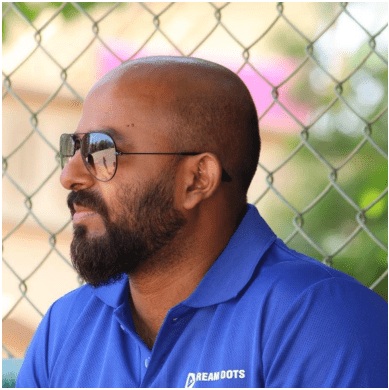 Being the Director of Dream Dots interiors it always motivates me to provide new creative designs to our customers. I am George CV an extrovert person in nature with a creative mind. I believe interior designing is an art of connecting people with emotion and making them live in their dream.